This is the first devblog regarding Project DEWM.

These devblogs will be about the hurdles and/or solutions we came up with during the development of Project DEWM.

This entry is about Sounds.

If you have played Doom or Quake, you will have noticed its rather muffled sound effects. This is all due to the Sample Rate of the audio file. Example: 48000hz, 44100hz, etc.

Quake's Sample Rate is 11025hz, so the highfrequency noises are not present, thus the audio will sound muffled.

Example:



Rocketlauncher firing (Q1)



[Source: Quake Wiki - Rocketlauncher (Q1) ]

Since our goal for Project DEWM is to emulate alot of the "features" of the old 90s fps games, we found it fitting to use the same Sample Rate of 11025hz for our sound effects (guns, explosions, etc).

Information page, with updates and blog entries about our current projects.

Powered by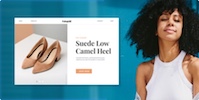 Create your own unique website with customizable templates.